Monday/Tuesday no school
---
Wednesday
Skill packet 1 is due today by 9 am. I am turning back graded work so after today, the best you can earn is a 50% completion grade. You'll be wise to turn in whatever you have done.
If you are finished with Skill Packet 1, I have Skill Packet 2 (Due Friday 3/25 end of qtr 3)
---
Learning Target: I can work with simple Interest calculations.
Handout/Practice.
In Canvas>Modules>Week 6, you'll see a Simple Interest quiz. Get it completed by Friday 3/11. Turn in work for partial credit if the quiz marks your answer wrong. I'll expect to see work like this: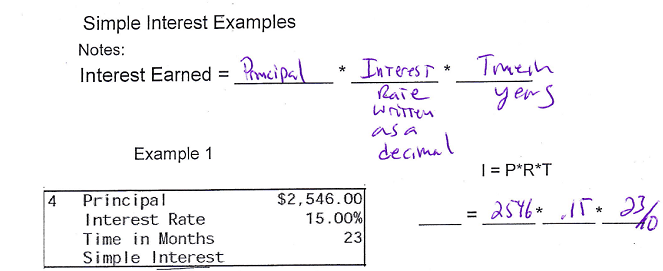 ---
Thursday
Skill packet time (15 minutes)
Finishing up the Simple Interest Calculations + quiz in Canvas
If time allows
Learning target: We will understand and be able to calculate using a formula and an app how making regular deposits into an account takes advantage of Compound Interest.
HO Walkthrough You may want to look at this spreadsheet
---
Friday
Skill packet time (15 minutes)
Then using this applet <link>
HW
Any missing work?
Canvas Quiz on Simple Interest
Read this short article <link> about Investing and Growing Wealth.