Main Area
Using Google Voice to assess student learning
Posted on January 4th, 2013
About a month ago I attended a BER workshop about using mobile tech to enhance student learning. One thing I walked away from this training with is the idea of having students respond using video/audio instead of writing.
An aside: I can hear my English Dept peers already crabbing that we need to have students do more writing rather than less. My anticipated response will be: They do more writing in my classroom than they do math in yours.
I've tried this and have had some success but smartphone access is still a problem for some students. Others are using a data plan that adds charges for data uploads. (so they tell me).
I found that Google Voice allows me to set up a voice mailbox and it transcribes most messages.
I'm trying it out to see how it works.
I'll  follow up with a later post.
---
RSA Style Video
Posted on January 1st, 2013
This RSA style of making videos really perked my interest. I found it interesting that RSA is the acronym for the Royal Society for the encouragement of Arts, Manufactures and Commerce. < link > It brought to mind the STEAM initiative I just found out about from one of the art teachers in my school < link >. I have a group of students who are working hard, but when it comes to a "test" they freeze. (This is not my PC class) Many have only had a year of HS mathematics either because they failed a year or did not take a math course during either their Ninth grade or Tenth grade year (or both). You probably are asking why not two years of math by the end of 10th grade? This is a good question, but I digress.
So I'm brainstorming ideas where these students can show me they have learned some math, but not have the word "test" attached to it. I've been heading towards having them complete work on a linear programming problem (graphical solutions only). I'm thinking that making one of these RSA type videos would be a wise use of time. Here is my trial. Sorry that my poor spelling skills are so evident. Skis….

I'll let you know how this goes working with the students.
---
Searching, Sharing and Building a PLN
Posted on July 28th, 2012
I finished the Google Power Searching course just about the time Digifoot12 Week 4 began with the focus being searching and vetting the value of web sites. I've also been searching on Twitter to see what is of value on that network.  I came across the hashtag #made4math. It appears to be a way for people to share cool things they've made for their classrooms or for conducting math classes. Some are sharing cool activities.
This got me thinking, remembering one of the best PD days I've spent in the 24 years I've been teaching. Vermont ASCD ran a workshop with Nanci Smith, a math teacher from Arizona. Her shtick was differentiated instruction/assessment. I walked away with more good ideas from that day than any training before or since.
To connect these two ideas I have running through my head this week, I decided to make a "cool activity" to share on #made4math Monday this next week.
One activity I learned about was to take a plain old boring worksheet and create a crazy puzzle for students to work cooperatively and solve. I drew a set of 16 2" squares arraigned in a 4 by 4 grid PDF . I used Kutasoft to generate a bunch of problems with the corresponding answers on simplifying exponential expressions. I cut them out and arraigned them on the grid PDF.
I run about 6-12 copies depending on how many groups I want. On each copy I'll write a letter on the middle of each square. The way I get the letters is to open any book and grab the first letter in each paragraph, just make sure for your sake that each square has a different letter.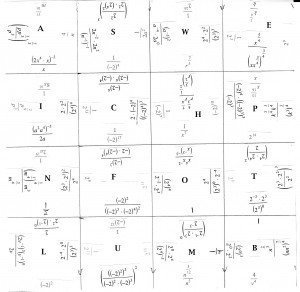 Make a copy of each before you do anything else. This is your answer key.  If you are going to do this in multiple sections, remember to make copies for the other sections
I use the same puzzle, just have different letters on each copy. They kids think they have different puzzles which gets them working and not just copying the next group/table.
Then carefully cut out the squares. A paper cutter works best.  Place each set of 16 in an envelope.
Hand them out to students. Tell them to match up the exercise with the answers and when they are done they will have a 4 by 4 square. Notice I added distractors around the outside.
Some students don't want to participate. I give them the plan odd hand out. I'd share that here but I'm not sure of Kutasoft's rules on sharing the handouts made with their software. They do have free ones available at their web site.
Using the Kutasoft and cut and paste is a new direction. I typically write these out by hand. Here is one I made last year for a group of students that needed review with percentages. PDF Is using Kutasoft better? I don't know, it took a lot longer to create.
I hope I've explained this well enough. Give a yell if you don't understand something.
---