Main Area
Summer Vaca Day 11
Posted on June 30th, 2014
A week of running back and forth to my folks helping out and visiting with my brothers. Not much time for reflection.
Chapter one of Marzano mentioned how one English teacher used a poem to get her rules across to students. I said, why not?
My Typical rules are:
I have really easy classroom rules that help keep the classroom a safe place.
Respect: We need to respect everyone else in the room
Reasonable: We need to be reasonable in our expectations and actions. No Extreme behavior.
Responsible: We need to be responsible to get work completed, keep our areas clean and for any equipment we use. If equipment is not cared for, then others won't be able to use it and it costs money to replace.
So I tried writing this draft:
Bring your pencils, papers, books
Don't forget your calculator
You won't get any dirty looks
Be your own Motivator
Let's not swear or be rude
Let's work hard while we are here
Don't give anyone ATTITUDE
Math shouldn't cause you to shed a tear
One thing I was going to play with this summer is to begin to write raps for classroom use. Maybe this might be one?
---
Summer Vaca Day 1 and Reflecting on This Last Year
Posted on June 19th, 2014
In the spirit of open practice, I'm going to blog this summer about my HS classroom. If anyone besides a bot is reading this, feel free to leave a comment/suggestions.
The first day of summer break. It was a late night last night. We drove 90 minutes both ways to go see a monster <link>. It was an entertaining show if you are in the area over the next couple of weeks.
Reflecting back on this last school year:
All of my dual enrollment courses went great. We covered the material that we needed and 15 students out of 18  registered earned transferable grades. These 18 students represented 1/2 of the students who were eligible to register for pc, statistics and calculus as dual enrollment students. I'd like to improve on this for 2014-2015. I get to have one of my own children in AP Calculus this next year. Her cohort seems to be a great bunch of hard working students so it should be fun. I also implemented mathxlforschools.com in my Statistics sections and that went well and the majority of students left an evaluation saying they favored it. I am expanding this next year to include my calculus course. My precalculus course uses this textbook <link> and myopenmath.com
What am I going to do this summer? Besides my online cc courses, which are 1/3 over already!
After 26 years of classroom management that worked for most students, but not for all, I am going to work on improving my classroom climate. It was a tough year with one out of control class and one that marginally pulled it together.
How am I going to do this? I started reading Marzano's Classroom Management that works <link>.  Chapter 1 deals with statistical significance and why improving teacher quality is important. Chapter 2 deals with setting classroom rule and procedures. This seems similar to what Wong wrote <link>. I truly believe that I am good at establishing rules and procedures. I don't think this is the problem. I did have one student tell me that I have no follow through. It will be interesting to see what Marzano has for suggestions to help me there.
One last comment for today: It is interesting reading one of these classroom management books after so many years of teaching. Seeing what I am doing and doing well and remembering about things I should be doing but have forgotten about is sobering. If I am going to keep doing this job, and I want to keep at it for several more years, I need to get this under control.
Enough for today. The "Honey do" list is calling.
---
Searching, Sharing and Building a PLN
Posted on July 28th, 2012
I finished the Google Power Searching course just about the time Digifoot12 Week 4 began with the focus being searching and vetting the value of web sites. I've also been searching on Twitter to see what is of value on that network.  I came across the hashtag #made4math. It appears to be a way for people to share cool things they've made for their classrooms or for conducting math classes. Some are sharing cool activities.
This got me thinking, remembering one of the best PD days I've spent in the 24 years I've been teaching. Vermont ASCD ran a workshop with Nanci Smith, a math teacher from Arizona. Her shtick was differentiated instruction/assessment. I walked away with more good ideas from that day than any training before or since.
To connect these two ideas I have running through my head this week, I decided to make a "cool activity" to share on #made4math Monday this next week.
One activity I learned about was to take a plain old boring worksheet and create a crazy puzzle for students to work cooperatively and solve. I drew a set of 16 2" squares arraigned in a 4 by 4 grid PDF . I used Kutasoft to generate a bunch of problems with the corresponding answers on simplifying exponential expressions. I cut them out and arraigned them on the grid PDF.
I run about 6-12 copies depending on how many groups I want. On each copy I'll write a letter on the middle of each square. The way I get the letters is to open any book and grab the first letter in each paragraph, just make sure for your sake that each square has a different letter.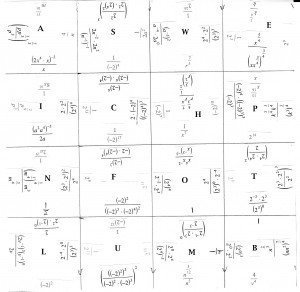 Make a copy of each before you do anything else. This is your answer key.  If you are going to do this in multiple sections, remember to make copies for the other sections
I use the same puzzle, just have different letters on each copy. They kids think they have different puzzles which gets them working and not just copying the next group/table.
Then carefully cut out the squares. A paper cutter works best.  Place each set of 16 in an envelope.
Hand them out to students. Tell them to match up the exercise with the answers and when they are done they will have a 4 by 4 square. Notice I added distractors around the outside.
Some students don't want to participate. I give them the plan odd hand out. I'd share that here but I'm not sure of Kutasoft's rules on sharing the handouts made with their software. They do have free ones available at their web site.
Using the Kutasoft and cut and paste is a new direction. I typically write these out by hand. Here is one I made last year for a group of students that needed review with percentages. PDF Is using Kutasoft better? I don't know, it took a lot longer to create.
I hope I've explained this well enough. Give a yell if you don't understand something.
---